Lemon chicken piccata with grilled bread
Lemon chicken piccata with grilled bread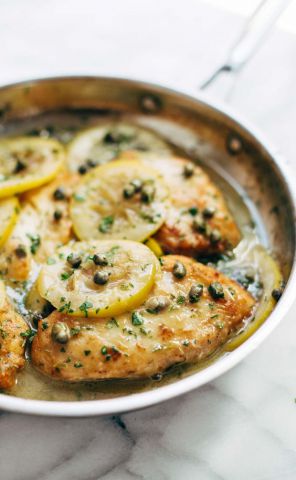 1 hr 15min Serves 6
Lemon chicken piccata with grilled bread
Ingredients
---
1 lb Boneless & skinless, Chicken
1 Lemon
1 mini bundle of parsley
1 1/2 C. Chicken broth
1/4 C. Capers, jarred
1/2 C. Flour
Pinch of Salt & Pepper
2 tbsp Olive oil
4 tbsp Land o Lakes salted butter
1/2 C. White wine 
Preparation
---
Cut the chicken breasts in half. Cover with plastic and pund to an even thickness (about 1/2 inch or less)
Place flour in bowl with salt & pepper. Dunk the chicken in flour mixture and set aside.
Heat 2 tbsp of butter and the olive oil in a heavy skillet. Add chicken and fry each side to a golden brown. Remove and set aside
Add wine to skillet and let get sizzly, scape browned bits off the bottom. Add broth & lemon slices.
Add capers, butter and remaining juice.
Top with fresh parsley.
"Grilled Bread" sliced baguette bread, add butter and grill or toast it in the oven.
Photo Recipe and  photo credit : Pinch of yum!