Chicken and Cheese Casserole with Rice
Chicken and Cheese Casserole with Rice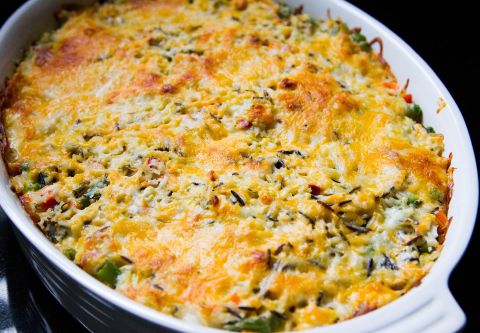 Prep time 15 min Services 4-6
Ingredients
---
1 can (10 1/2 ounces) Campbell's® Condensed Cream of Chicken Soup
1 1/3 cups water 
3/4 cup uncooked long grain white rice 
1/2 teaspoon onion powder 
1/4 teaspoon black pepper 
2 cups frozen mixed vegetables (carrots, green beans, corn, peas) 
1 1/4 pounds skinless, boneless chicken breast halves 
1/2 cup shredded Cheddar cheese  (about 2 ounces) 
Preparation
---
Heat the oven to 375°F. 

Stir the soup, water, rice, onion powder, black pepper and vegetables in an 11 x 8 x 2-inch baking dish.

Top the rice mixture with the chicken. Cover the baking dish.

Bake for 50 minutes or until the chicken is cooked through and the rice is tender.

Top with the cheese. Let the casserole stand for 10 minutes. Stir the rice before serving.