Apple Dessert
Old Fashion Apple Crisp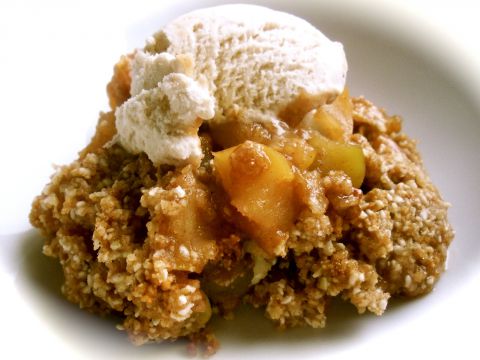 Prep Time 30 min Servings 4-6
Ingredients
---
6 Apples
3/4 C. Oats, Old Fashion 
1 C. Brown Sugar
1 tsp. Cinnamon 
1/2 C. Flour
1 tsp. Vanilla 
1/2 C. Butter 
Garnish with a scoop- Cool Whip and/or Vanilla Ice Cream 
Preparation
---
Peel, core and slice apples.

Preheat oven to 375.

Layer apples into baking dish.
Mix together flour, brown sugar, oats and cinnamon in a bowl.
Add in vanilla and cut in butter with a pastry blender or fork.
Work until mixture forms large crumbs.
Sprinkle over apples.
Bake 30-35 minutes or until topping is browned and apples are soft.